Share this!
Hey my fellow shepherds,
I wanted to share what happened recently in the tech world: ChatGPT.
What is ChatGPT? It is a chatbot launched by OpenAI in November 2022. It is built on top of OpenAI's GPT-3 family of large language models, and is fine-tuned with both supervised and reinforcement learning techniques. To put it in a simple way, you can ask it any questions, and it will search on the internet and give you an AI-generated reply. It doesn't only stop there, but you can have a conversation with it. Professionals say it would replace Google very soon.
Now, you may wonder why I post this kind of topic here in our super spiritual blog… come to our real topic. Since this bot can chat with people one on one, immediately it alerts me about our one-on-one bible study. Is this bot a threat to bible study? Will people just search spiritual answers just by talking to AI, instead of a real person? We see the trend now, people go to the internet, and search for biblical answers. Google becomes a place (Social media is another) that people trust and go to, even though the information they get might not be true or correct. Can ChatGPT be the next one?
Here are some questions I asked ChatGPT, and remember, it was a conversation.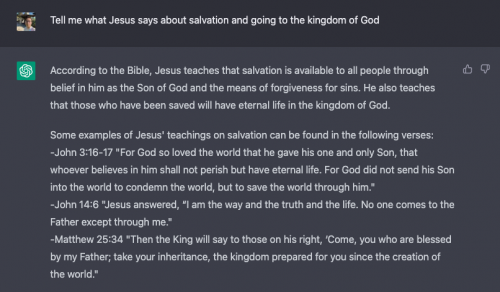 Man, even the AI understands the way to the kingdom of God! Can AI preach a message of repentance?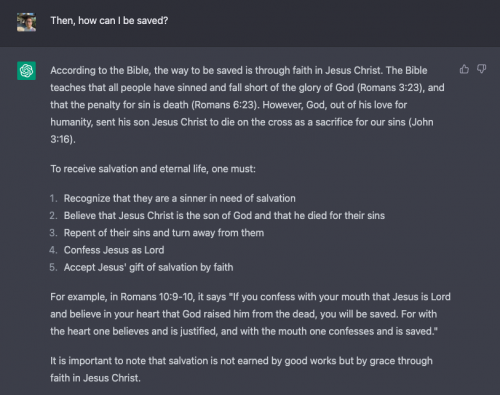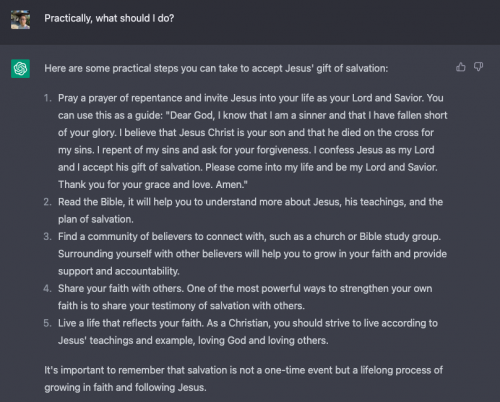 I thought it would say, "Find a shepherd!"
In conclusion, people can chat with it to get generic answers, but in reality, they still need a shepherd who can help them live their life and face their challenges by faith in Jesus. Now with AI technology, it requires more struggle on our side to lead our sheep to Jesus our Lord.
Shep. Remiel
Loading Likes...