Share this!
A pavlova is a meringue based dessert that is refreshing and delightfully moreish. The outer crust has the texture of a thin wafer, and the inside is similar to marshmallow. It's topped with whipping cream and usually fresh fruit and berries. It was named "Pavlova" after a Russian ballerina because it is "light as a ballerina." There is a lot of speculation about where it originated, how, and by whom. But today, there are many recipe versions on the internet – with varied ingredients and techniques. This is a family recipe that was passed down to me by my mom, who got the recipe from her friend from New Zealand (thank you, Odette!)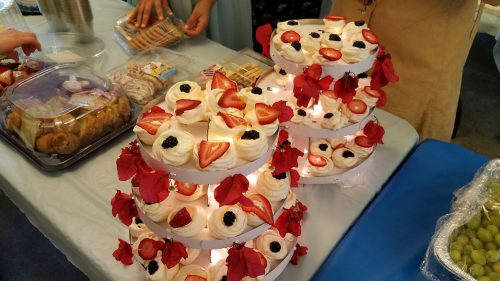 The key to the success of this delicious recipe is in the technique. That being said, I am just going to have a moment of silence for all of my failed Pavlova attempts that never made it past the kitchen.
*silence*
Even today when I am making a pav for a special event, I make a second batch while the first one is baking as a backup. So if you decide to try this out, be patient with the process.
Allergen warning: This recipe is not strictly gluten free, as it contains a small amount of malt vinegar. But in the entirety of this recipe, there is only a trace amount of gluten. I have experimented with different types of vinegar that are gluten free and get really delicious results. However, it very slightly changes the texture of the crust to be a bit more grainy.
The ingredients for the Pav:
3 egg whites

1 ¼ cups of sugar

3 tablespoons of cold water

Pinch of salt

3 teaspoons of cornstarch

½ teaspoon of vanilla extract

1 teaspoon malt vinegar
For the toppi

ng:
Fresh whipping cream

Fresh fruit (berries are most popular, but can be expensive. So, I recommend using strawberries that are in season, and slicing them thinly)

The possibilities are endless
ze pav recipe
Preheat the oven to 350°F 

Use a standing mixer to beat the

egg whites

(I put mine on the highest speed here). As Odette would say, "

Beat thee iggs unteel they're reely steef."

Basically, you want to beat the egg whites until they are "stiff," which means they peak and hold their shape. So, if you were to scoop some on a spoon and hold it upside down, it wouldn't drip off. This can take a few minutes, so be patient and watch the chemistry happen before your eyes!

Add

water

, then beat again (this time I change to be a slightly lower speed)

Add

sugar

gradually, beating all the time

Mix in the

cornstarch

,

salt

,

vanilla

, and

malt vinegar
In the end you should have a white meringue that holds its shape.
6. Scoop the meringue onto the parchment paper (NEVER ADD OIL) on a baking tray. Because the meringue will hold its shape, you can use a spoon or rubber spatula to create the desired shape. Traditionally, you shape it in a circle, keeping its height so it's more like a cake rather than a cookie. Then, you create a dip in the center where you will eventually fill with your cream and toppings.
7. Put the pav in the oven and watch it bake! I recommend putting it on the shelf so that you can see it through the oven window with the light on. This way you can monitor its cooking without opening the oven (opening the oven during the baking process can influence the result).
8. The pav will be in the oven for about one hour. You will know it's done when the crust starts to crack, and the inside isn't too soggy or wet. Usually, you don't want it to get brown, but sometimes mine come out a little darker.
9. When you pull it out of the oven, let it sit on the side to cool.
ze topping
Make sure your mixer is clean and dry.

Pour some

fresh whipping cream

in the standing mixer and beat on the highest setting. I recommend doing this in batches depending on how much fresh whipping cream you want.

You want to keep whipping until it peaks and keeps its shape (I keep it going on the highest setting for as I can – but not until it becomes butter)

Put it in a bowl on the side, and repeat steps 2-3 as needed.

Then, get whatever

fruits

you want and make sure they are washed and dried thoroughly.

Once the pav has completely cooled, scoop the fresh whipping cream onto the dip of the pavlova. The pav will crack, but the hope is that it doesn't completely collapse.

Finally, sprinkle on the fruit!
Enjoy.
If you end up with leftovers, it is best to put it in the refrigerator, especially because of the cream. However, it MUST be placed in an airtight container, otherwise the moisture from the refrigerator will make the pav crust become soggy and like a sponge.
Once you have the basic meringue down, the opportunities are truly endless! You can switch out the vanilla extract for any kind of extract. In the past, I have done rose, guava, and coconut. If I want a stronger flavor, I will put in one teaspoon of extract instead of just ½. Also, instead of just one large cake, you can make mini pavs. You can use a spoon and scoop like the larger version, but I also like to use piping bags for more control and a finished look.
If your pav comes out soggy, or oozes sugar juice, or collapses and becomes a sad cookie, do not fear! Even though I have had many failed attempts, they don't go to waste. The flavor doesn't really change despite the appearance so you can still enjoy your varied pav.
This is very much a parable to shepherding life. In the beginning I had the expectation that if I simply followed the recipe (fish, teach, repeat), I would have a wonderful, sweet and fruitful ministry! But, just like making a pavlova, I have learned that shepherding requires real training and practice. Sometimes I thought things were going very well, and sheep were growing. But when the moment came, they collapsed like a broken cookie. Or other times, I thought I was doing well, only to find that inside I was completely undercooked.
But even though maybe I or sheep don't turn out as expected, God never lets any of the effort go to waste. Maybe we can't revive a failed pav, but God can revive, restore, and resurrect us completely. Then, through each failure, we grow, learn, and become refined until eventually we are experts in the word of God, shepherding, and bakin' a pav! Then, we will enjoy an abundant feast and sweet dessert with our Chief Baker in the kingdom of heaven.
Have hope in the process & blessed baking!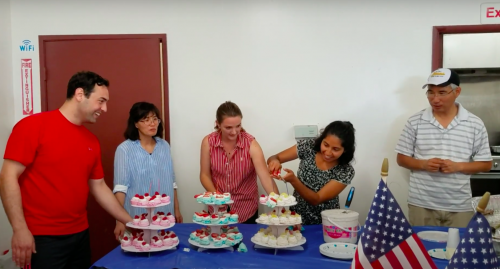 Loading Likes...