Share this!
Recently, because of the quarantine, we had our first online Easter worship service served by three powerful messengers. Although I was very blessed by this service, I cannot help but notice that it feels different than our regular Easter worship service. Usually, after the service, we have special programs. There is a drama, which is usually very touching and funny. Then, there are also special songs and dances. And last but not least, we also have rap songs by Leo, Rob, Eric, Sam, Herman, Pedro, Saleh and sometimes, the sisters. To end our service, we usually have our most famous potluck meal. And this reminds me of our last potluck in our 2019 Thanksgiving Testimony sharing.
Usually, in each potluck, we have all kinds of food from different parts of the world. Sometimes, there is some dish that I'm hesitant to taste because of how strange it looks, but it ends up tasting really good. But, in our last potluck, we had one brother who brought an unusual looking cake. The cake looked so nice and cute that I felt really sad when I ate it.
It really looks like our logo.
Oh, and it tasted so delicious too. I don't like chocolate, but I enjoyed eating it. But, that's not it. The cake came with a heartwarming note that made it so much better.
The note says,
"Making this was stressful. It really was a handful. Parts of it got burnt. I almost did too. At one point I had to stick it back into the oven. Then I got rid of the excess… and the burnt parts. It got to the point where I considered running to the store. But there is only one way to deal with sheep. Even ones made of cake. He fell apart here & there. Thank God for icing! I admit I was ashamed of it but then I realized I have much in common with this mess of a "cake." God stitched me together wonderfully in my mother's womb and his intentions for my life are great. Enjoy!"
Seeing how this brother dealt with this "sheep" to the end encourages me to also be patient with my sheep and to have the same determination to finish God's work in their lives. Taking care of them can be stressful at times, but when God's work in their lives is completed, I can have my joy, like this brother. Sometimes, in shepherding them, I still make mistakes, which perhaps causes my sheep to suffer, but God covers up my mistakes. Indeed, thank God for "icing." I, myself, am the product of God's hard work! I am no longer an utter mess but a delicious cake bringing joy and fulfillment to many people with the Word of God. May God transform our sheep, who currently have many burnt parts, into beautiful and flawless sheep of God that bring blessings to many people.
We ended up not eating this cake at the Friday dinner, but we repurposed this cake into a birthday cake. 😁 And many of us enjoyed this cake. Look at the pictures below.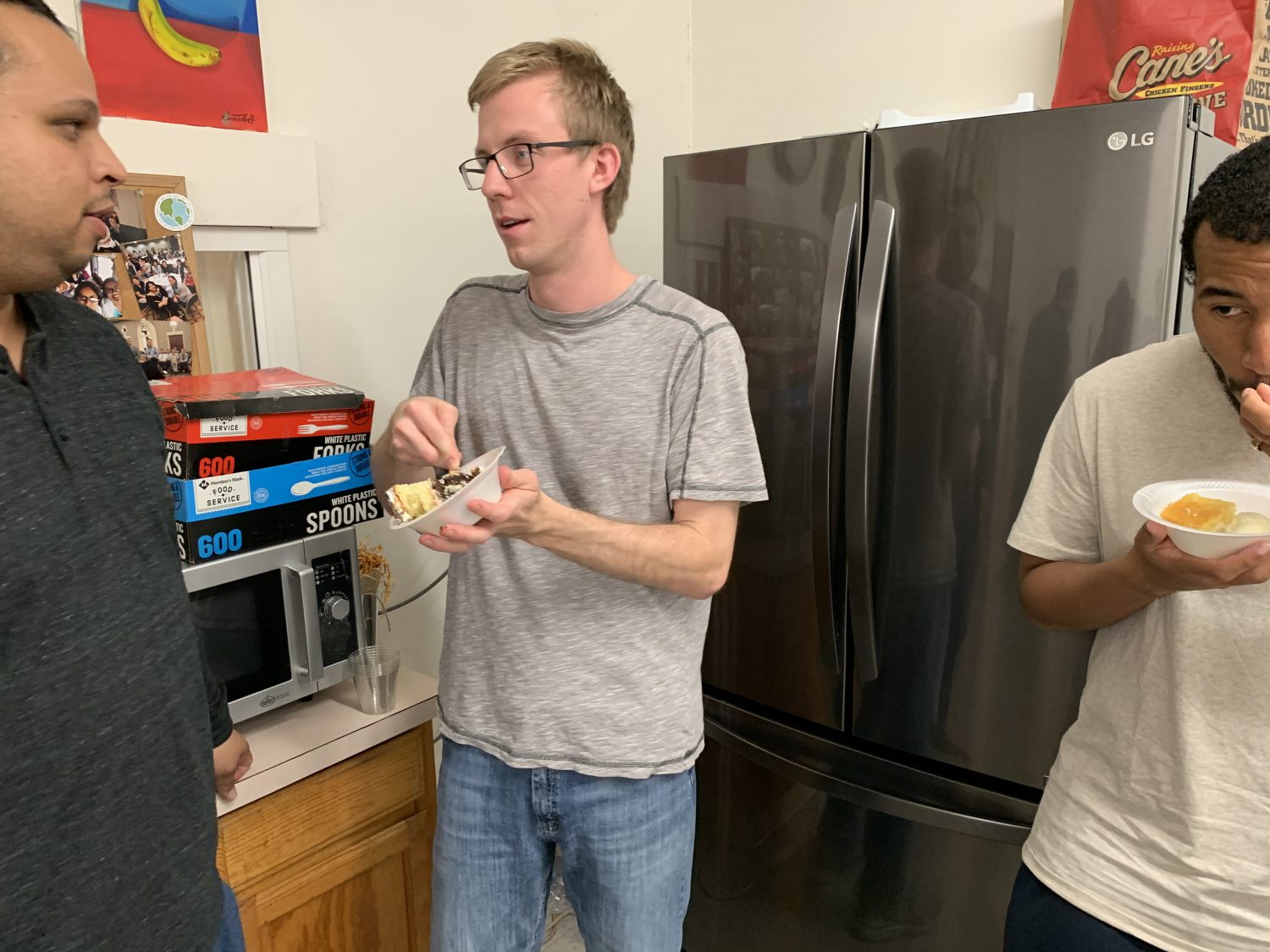 Thank you, brother Ricardo for your hard work to mold this mess into a beautiful and delicious cake. In the other post, The Diaries of Quarantined Shepherds, we also see some shepherds are practicing their baking skills during this quarantine. Perhaps, later when we come back, we can have our most famous potluck meal again, and we will see more of this cake. 😬
Loading Likes...