Share this!
I recently saw this piece of clip art and was amused at how well it visually illustrated the support we get from praying for one another.
It reminded me that it is important that we continually pray for one another and our sheep. Sometimes we face struggles and hardships that may seem overwhelming. I know for me personally, I have faced spiritual challenges, road blocks and hurdles that seemed too vast for me to overcome. Maybe I prayed about it and God would show me things, but my Phillip mindset would hinder me from taking that next leap. I felt like the weight was too heavy to lift, the gap too wide to jump. At this point I may have felt that there was no hope.
However, through the support of prayer from God's servants, the weight was able to be lifted; and the gap was abled to be cleared with the aid of spritual teamwork.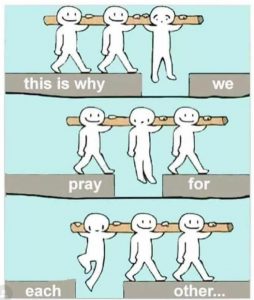 Every week at the campus of CSULB, we have prayer meeting where all the Long Beach State shepherds meet up and we pray for our list of weekly prayer topics. Through our sincere struggle, our prayers have continued to be answered.
I pray that we may keep this in mind and continually pray for each other with the zeal Abraham had for Lot.
Loading Likes...