Share this!
Pesto is one of my favorite sauces to cook with as it's easy to make and isn't very time consuming. I have tried different pestos from many restaurants and found a lot of them to be very bland. So, if you are a busy shepherd looking for a TASTY, fast, and easy to make dish, try this out!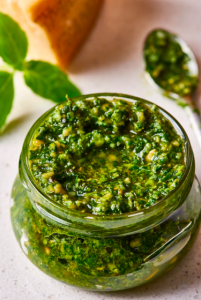 To make Pesto, you will need:
1. Fresh basil leaves – About 2 cups
At Trader Joe's, they have an entire container of basil for only 2.99!
2. Roasted Almonds – About 1/2 a cup
Pine Nuts are usually used in pesto recipes. I have seen people also use walnuts, however almonds are cheaper, work just as great and give the pesto a great taste!
3. Garlic – At least 4, but I suggest 8!
Most recipes I have seen suggest about 3-4 cloves…. But you can never have too  much garlic in my opinion!! This is what makes the pesto tastier. Many pestos have a bland taste because of their lack of garlic!
4. Parmesan cheese –    About 1/2 a cup
5. Olive oil – About 1/3 cup
 The amount of olive you use will determine the consistency of the pesto. More olive oil makes the pesto easier to spread. Use more if desired.
6. Black Pepper and Salt – to taste, but I tend to use at least 3 tbsp of pepper and about 1 tbsp of Salt
I recommend being heavy handed with the pepper, especially if you want to use less salt.
7. A Blender or Food Processor
Process the ingredients into a puree consistency. If your pesto is too dry to blend thoroughly, I recommend adding more olive oil
NOTE: I don't know exact measurements as I tend to measure with my eyes. These are rough measurements, but modify them to your liking!
As far as serving size goes, I tend to end up using half of the pesto to make a big dish for me and my mother, with enough left overs to last for another 3-4 servings. The other half of the pesto is stored in a tightly sealed container in the fridge that can last up to 2 weeks!
Use your homemade pesto in pasta dishes, baked dishes, combine it with rice and chicken, or toss it with vegetables – this recipe is really versatile!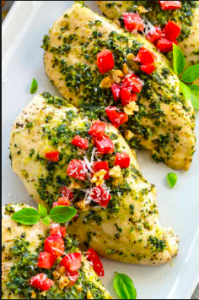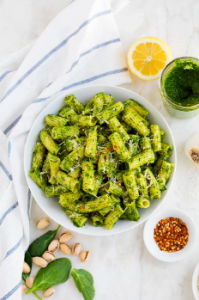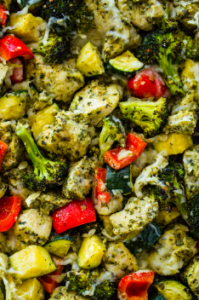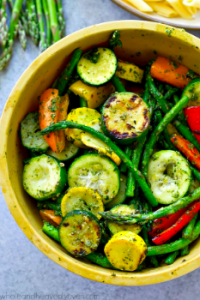 The pesto should stay good for at least 2 weeks refrigerated in a tightly sealed container.
Enjoy, hungry shepherds!
Loading Likes...