Share this!
I saw this recipe recently online and decided to give it a try. It seemed easy enough for my nonexistent cooking skills, so I thought, "Why not?" I usually rely on takeout or my mom's cooking to survive, but this time I wanted to just make something on my own.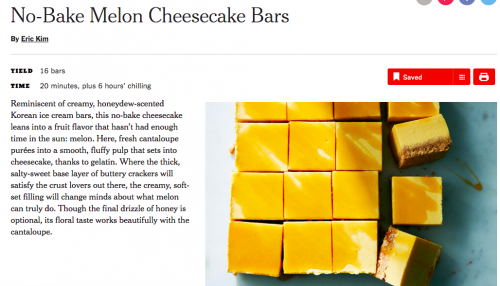 Boy am I glad I went for it. It was so simple and easy to make! I changed it up and tried to go dairy-free, since most of my family tend to not like dairy stuff too much. I forgot to do this with the butter, though, so take it as you will.
Here are the ingredients!
FOR THE CRUST:
9 ½ ounces/269 grams graham crackers (about 18 whole crackers)
½ cup/115 grams unsalted butter, melted
2 tablespoons granulated sugar
½ teaspoon kosher salt (Diamond Crystal) – It seemed important to have this particular salt, and I've read that it does wonders for all types of food. It contains less sodium than other brands as well. Pretty sure there's some spiritual lesson there (be the good salt in the world, not the bad salt?), but all I can say is it was TASTY. I had trouble finding it anywhere except Albertsons.
FOR THE FILLING:
2 (1/4-ounce/7-gram) packets powdered gelatin (about 5 teaspoons)
1 ¼ pounds/566 grams peeled cantaloupe, diced (about 3 cups)
1 (8-ounce/226-gram) package cream cheese, at room temperature – I used Kite Hill plain cream cheese, which is almond-based
½ cup/100 grams granulated sugar
¼ teaspoon kosher salt (Diamond Crystal) – here it is again!
½ cup/120 milliliters heavy whipping cream – I substituted with a Reddi-wip coconut milk whipped topping spray
Honey, for drizzling (optional)
Prepare the crust.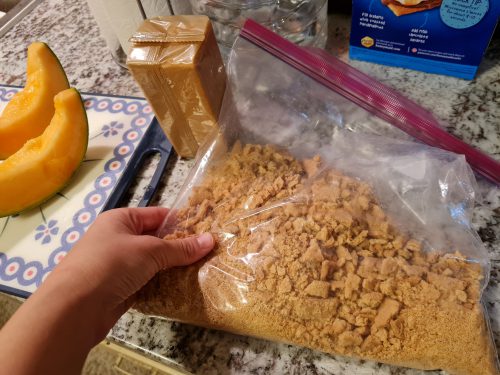 1. This was the fun part: take the graham crackers and crush them into a coarse rubble in a Ziploc bag. Then add butter, sugar, and salt to the bag and mix until it becomes a sticky, delicious-looking, crumbly mess.
2. Transfer that into a 9 inch baking pan and use your hands to spread it evenly over the bottom into a thick, solid crust. Then place the baking pan into the freezer so it can set.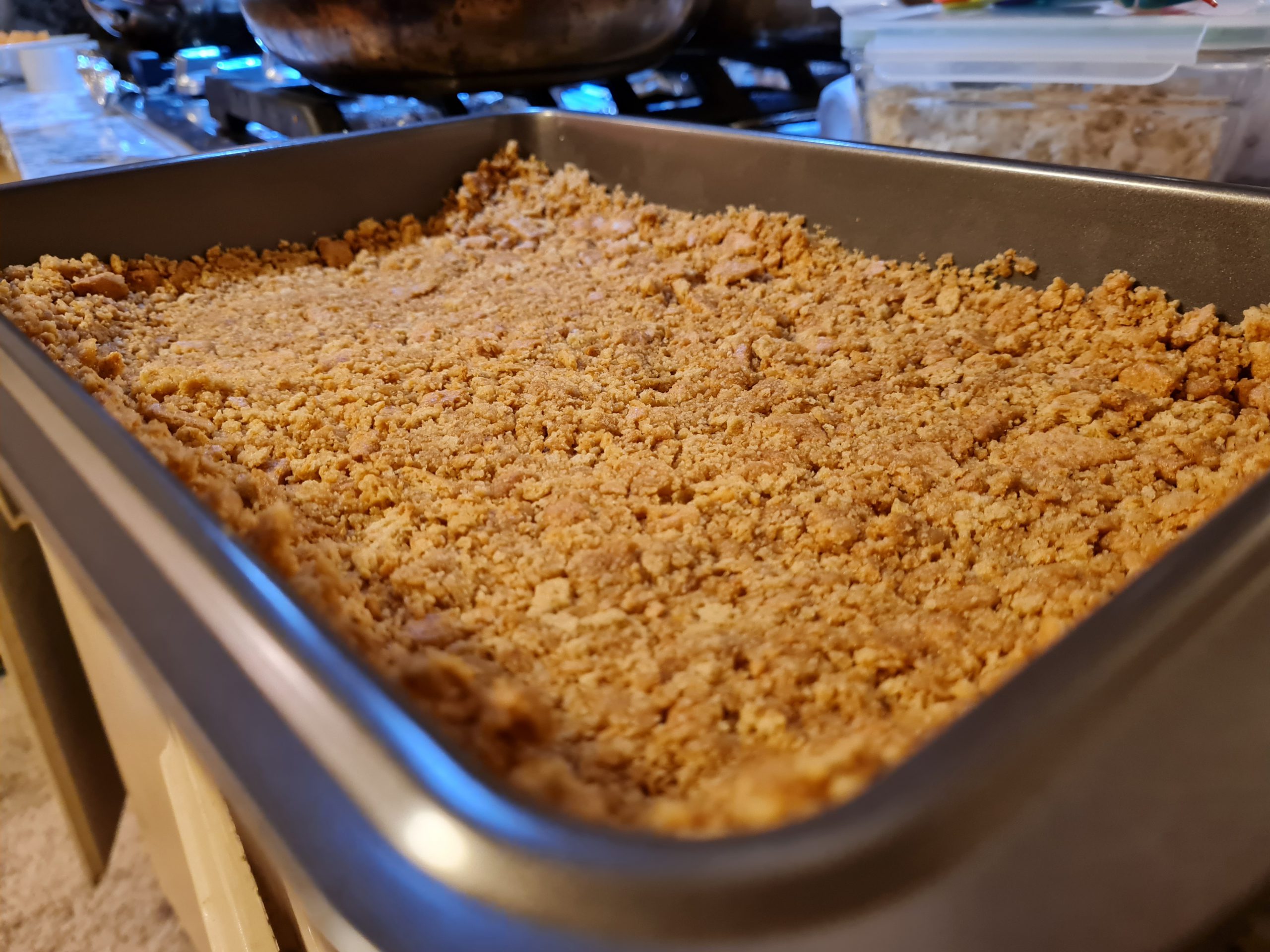 Make the filling.
3. Stir together 1/4 cup of cold tap water and the gelatin, and set it aside. It "blooms" and becomes very sticky and gluey.
4. Meanwhile, pour the cantaloupe, cream cheese, sugar, and salt into a blender and puree thoroughly until smooth.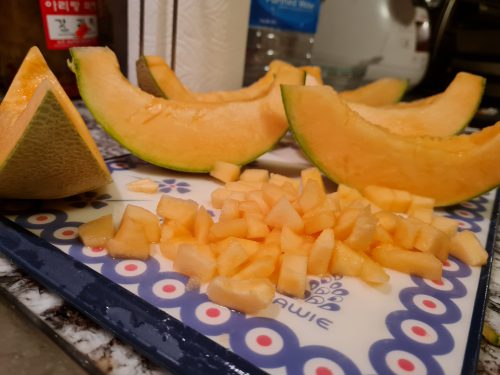 5. Heat up the whipped cream over medium heat until simmering, or about 45-60 seconds in the microwave. Then stir the gelatin in with the cream and mix vigorously until smooth.
6. Pour the cream/gelatin mix into the blender with the cantaloupe, and puree once more until smooth.
Combine the crust and filling.
7. Take the pan from the freezer and carefully pour the contents of the blender to cover the crust.
8. Cover and refrigerate for at least 6 hours, or overnight.
9. Cut into little squares and serve with honey or fruit or whatever makes it look more delicious.
What's the result?
Honestly it didn't look like it would be very good. The filling didn't have that nice orange color like in the recipe picture, and instead turned out a dull yellow color that was not very attractive at all.
But then I took a bite, and was blown away. It was real cheesecake, very sweet with just the right hint of saltiness. The crumbly buttery taste of the crust was simply delightful. When I gave some cheesecake slices to my family members, they were surprised and enjoyed it as well. Success!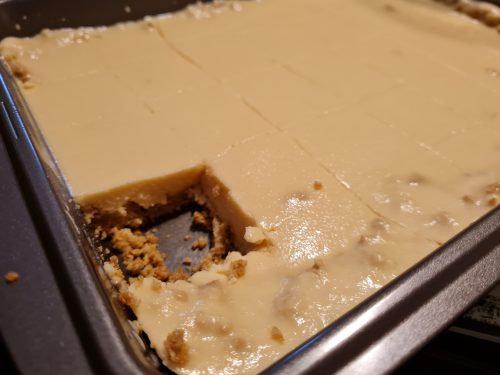 I think one thing I discovered from all this is that when I actually try my best, God sometimes has mercy and turns my pitiful efforts into something good. I could have given up at the first sign of my inexperience, when I walked into the wrong store that definitely didn't have what I needed. Or I could have stopped when cutting the cantaloupe seemed too daunting (thank you Shepherdess April for teaching me long ago how to tackle that!). I could have been discouraged at how slowly I worked. And I could have especially been defeated at how ugly my precious cheesecake looked – all my hard work and running and sweating, and what was this? It looked like half-baked cornbread, or like a newly painted wall, with all the bubble marks and everything. Not appetizing at all.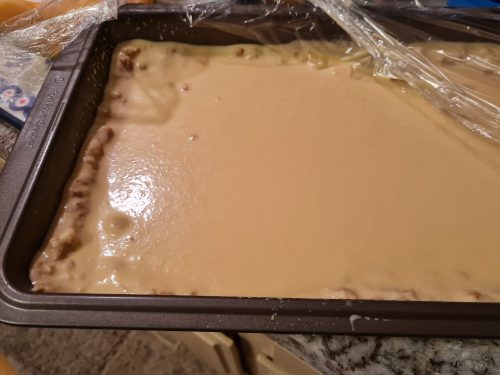 HOWEVER. It was surprisingly tasty and refreshing. I guess the author of this recipe knew what they were doing. In the same way, I know that God, the author of my life, knows what He is doing, even if things might look pretty messy and unimpressive along the way. Maybe I make mistakes that cause a lot of unnecessary complications. Maybe I wanted to walk a straight line but instead ended up veering to the left or the right. But God can make it beautiful and good. The most important thing is that I don't stop and give up because of my failures, but just follow His directions. I can trust that the end result will be like a heavenly cheesecake, mistakes and all.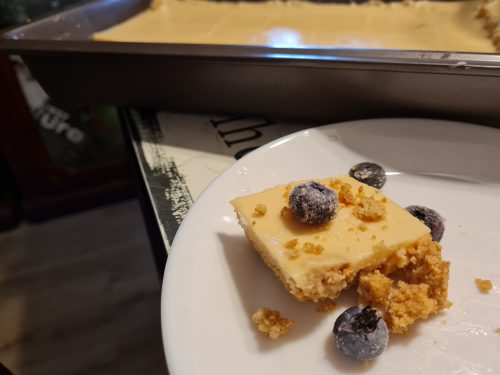 Loading Likes...