Share this!
This past Christmas, my husband Pedro and I had a chance to visit my family in Taiwan.  We visited the old street Tamsui in Taipei:
This was the place where a missionary from Canada–George Leslie MacKay (21 March 1844 – 2 June 1901)–started his mission of spreading the gospel in Taiwan.  His name is well recognized in Taiwan because he established a school for woman and also a hospital for the poor.  (Shamefully I have to admit I never really spent time while I was a student to research about this great missionary).  He started the mission work during a time when Christianity was banned by the Emperor of China. The Han Chinese people were not so welcoming to him.  However, when Dr. Mackay arrived in Taiwan, he knelt down and praised God, saying, "I will give my whole life to this land." With his love and patience, many Taiwanese people opened their heart to the gospel and accepted Jesus as Christ.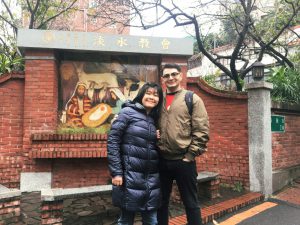 He established the Oxford University in Taiwan to educate people with the words of God and also a hospital to take care of the poor. He was the first person to establish a women's university in Taiwan, so women would have a chance to be educated.
I was really touched when I revisited my hometown with a different view of this land. God is surely working everywhere in people's heart. Praise God 🙂 !!!
Loading Likes...